$599.99
$0.00
ARTURIA V-COLLECTION Plug-in Bundle Download version (code)
Bringing together over 100 years of landmark keyboard instruments in one software package, the sounds behind every hit, every genre, and every musical movement are now at your fingertips. Painstakingly recreated in beautiful detail, every single instrument in V Collection 6 will blow you away. Faithfully reproduced the way the original components behaved using our exclusive True Analog Emulation technology and class-leading physical modeling, there has never been a more complete, versatile vintage keyboard solution.
Taking each instrument one step further, we also introduced some incredible, optional new features to these hallowed classics, like allowing monophonic synths to become polyphonic, integrating arpeggiators, extra oscillators, LFOs, filters, and more. You'll also find over 6,000 incredible preset sounds, created by some of the most prestigious, acclaimed sound designers in the industry. Whatever keyboard sound you need in your track, V Collection 6 has you covered.
The best of the best
Every gear-lust inducing keyboard and synth you ever craved is available; right here, right now.
Ever heard a song and wondered what keyboard they used? Chances are, it's been recreated in V Collection 6. Inside, you'll find analog synths, modular marvels, revolutionary digital synths, sublime acoustic and electric pianos, organs, and even a string machine. Each one a legend, and each one capable of revitalizing your creativity and transforming your musical palette.
V Collection 6 gives you the keys to your very own private keyboard museum. What will you create?
Down to the smallest detail
Mapping out and recreating every circuit, component, nuance, quirk, and spark of magic takes time and dedication. V Collection 6 lets you take full advantage of Arturia's passion for vintage keyboards.
Using exclusive modelling technology, known as True Analog Emulation®, as well as the latest physical modelling techniques, Arturia's developers and engineers were able to perfectly recreate every element of these classic instruments. From the intricacies of the analog components and circuitry, to the character-defining reactions of the strings, cabinets, and speakers, Arturia have recreated these classic keyboards in stunning detail.
To get closer than any other virtual instrument on the market, we worked alongside masterminds like Cameron Jones and Bob Moog to ensure our software recreations were faithful to their original visions. This dedication means that whatever instrument you load up, whatever sound you're searching for, we payed tribute to the original machine. We built upon its legacy. We added a new generation of features that open up exciting new possibilities to the contemporary musician.
V Collection 6 offers you top-tier keyboards without the hassle. No tuning, no maintenance, no repair bills, just pure, creative bliss.
21 outstanding, legendary instruments
We have spent many years and countless hours bringing this collection of vintage instruments back to life, and they are ready for you to spend a lifetime exploring them.No matter the genre you play or listen to, the instruments featured in V Collection instruments will have helped form it. From rock to psychedelic pop, industrial to jazz, hip hop to electronica, our labour of love gives you the momentus, defining sounds that shaped the course of popular music for over a century. Here, you'll find the full contents of V Collection 6. As you can see, it's a solid gold hit-list of synths and keyboard legends.
8 Analog Synthesizers
With the complete V Collection, you're fully prepared for wherever your musical journey takes you.
Preset browser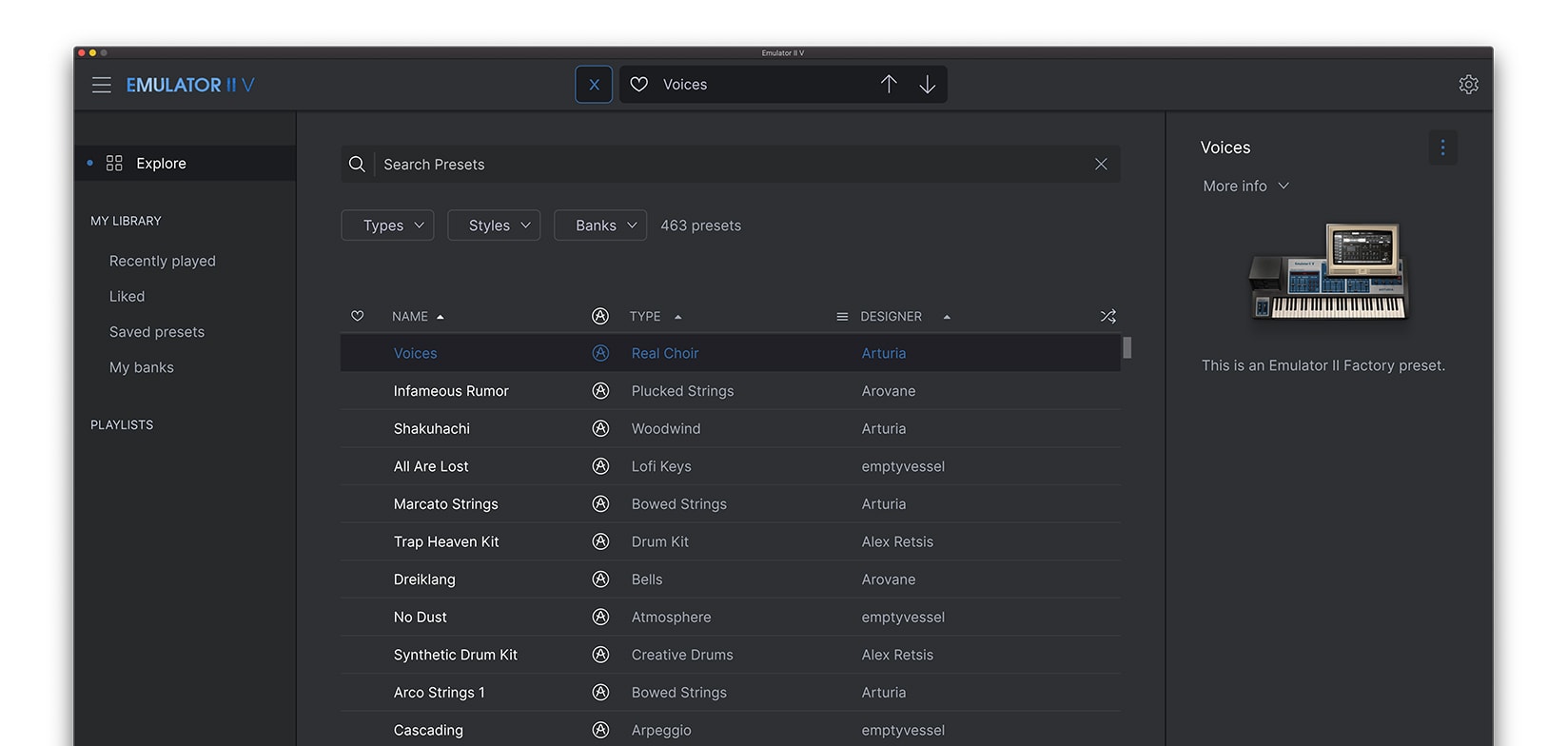 Our redesigned preset browser lets you quickly find just the sound you're looking for.
Search by name or simply select the appropriate tags to dial in on the exact sonic character you're looking for. You can mark and recall your own favorites, enter comments, and set up playlists. There's never been a more intuitive way to manage your library of designer and personal presets.
Resizable GUI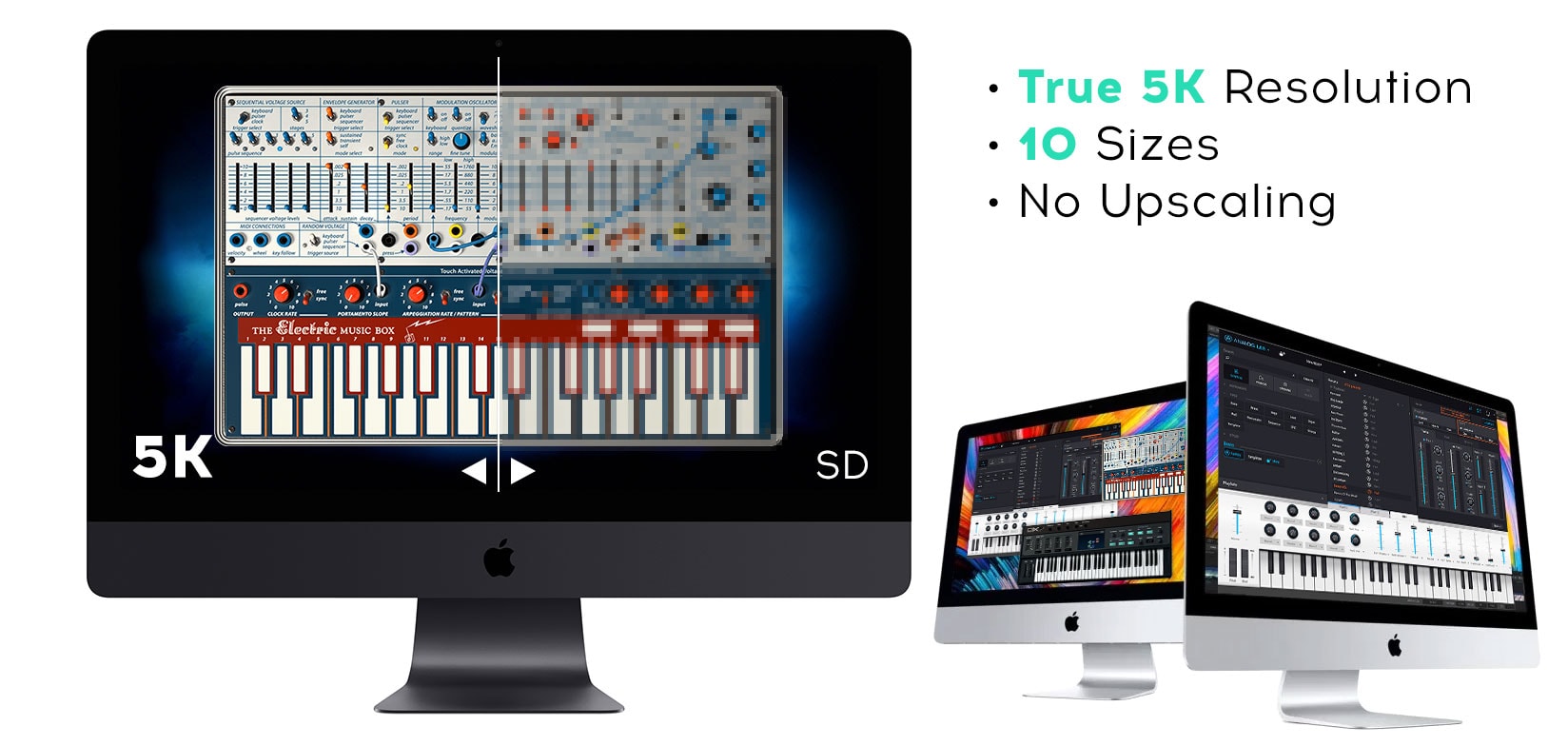 The user interfaces for all your Arturia instruments are now resizable, making it easy to work with any High Resolution screen, UHD or Retina.
You can decide whether you want to fill the screen with awesome graphic reproductions of classic instrument goodness, scale the window down when you're working in a DAW and screen real estate is at a premium, or even zoom for detailed work.
Includes 21 software titles: Analog Lab, Clavinet V, CMI V, DX7 V, Buchla Easel V, Synclavier V, B-3 V, Mini V, Piano V, Stage-73 V, Matrix-12 V, Farfisa V, Solina V, SEM V, Wurli V, Jup-8 V, ARP 2600 V, CS-80 V, Prophet V, VOX Continental V, Modular V 

Each virtual instrument in the V Collection can be used as a stand-alone application or as a VST, AU or AAX plug-in

Redesigned browser for fast access to sounds

High resolution graphic interfaces, compatible with very large displays

All instruments share a common interface for browsing, editing (save, import, export, ...)

Easy MIDI mapping to any keyboard controller.

Easy install and licence manager : Arturia Software Center.

More than 6000 high-quality and innovative sound presets.

Analog Lab - All presets of the V Collection 6 can be browsed and edited from a single interface

Arturia's proprietary technology, TAE®, ensures that each analog modeling instrument sounds and behaves exactly like the original.

Manuals in English, Japanese and French